Australia Day is just over a week away and if the Aussie Day BBQ is at your place, you'll soon be starting to thing about what you're going to cook and serve on the day. We've teamed up with a bunch of talented culinary experts to bring you some classic Australia Day dishes that are sure to impress on the day, as well as all summer-long.

A butterflied leg of lamb is great for feeding the masses – plus it's a really versatile cut because you can cook it so many ways. However, cooking this cut on the BBQ really showcases its mouth-watering flavours…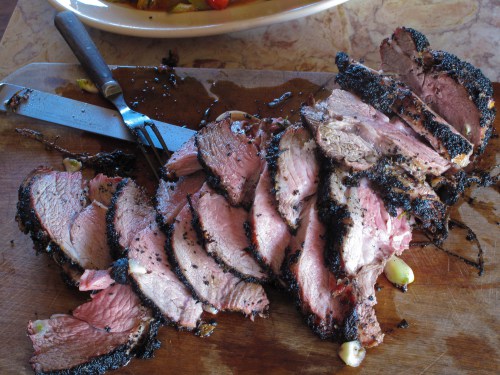 A butterflied leg of lamb is a great cut for feeding the masses…

Ingredients:
2.2kg Leg of Lamb butterflied (this size leg of lamb will serve 8 – 10 people)

1/2 onion

4 cloves garlic, peeled

2 tbsp fresh rosemary leaves, or 1 tbsp dried

Zest of 1 lemon

1 tbsp verjuice

2 tbsp olive oil

Salt and freshly ground black pepper

Method:
1. Put onion, garlic, rosemary, lemon zest, verjuice and olive oil into a food processor and pulse to combine.

2. Sprinkle a generous amount of salt and pepper over the lamb. Place marinade and lamb into a bag. Spread marinade over all sides of the meat. Refrigerate for 1 to 2 hours.

3. Remove lamb from refrigerator and let come to room temperature (about 20 minutes).

4. If you are using a gas BBQ, heat on high on all burners to start. After the initial browning you will reduce the heat.

5. Sear skin side down for 10 minutes and other side for 4 minutes. Change heat to low to maintain a temperature of 150-180°C.

6. Cover the bbq and let cook for an additional 35-45 minutes (depending on how many kgs the roast is).

7. Cover with aluminum foil and let rest for 5-10 minutes. Cut across the grain, 1 – 1.5cm thick slices. Serve slices on a warm platter; pour meat juices over the slices. Serve with mint jelly or horseradish.

About Alison Clinch and The Free Range Butcher: Alison and her husband Ben are "both lovers of good food and are passionate about sustainable food production". This passion is realized through their business, The Free Range Butcher, which sells meat from their family farm. Customers can find their products at farmers markets, or have them delivered to their door.

B
en Clinch from The Free Range Butcher

Check out their website: www.freerangebutcher.com.au and Sydney Morning Herald Good Food review of The Free Range Butcher…

What is your favourite cut of lamb?